[ad_1]

Understand Men. Find Love.
You've just started seeing a guy and you're a little nervous. He seems interested but you know, full well, that guys often show interest at the beginning and then do the slow fade, breadcrumb, random text thing. Next thing you know, you feel like you're being strung along and as long as you hear from him occasionally, you can't break free. In this Love U Podcast, I'm going to share with you 7 obvious signs, that yes, he's into you, and yes, you can relax now.
Podcast: Play in new window | Download
Subscribe: Apple Podcasts | Android | Email | Stitcher | Spotify | Blubrry |
Download the transcript of this podcast
Download my free special report, The 8 Massive Mistakes You're Making in Relationships
Get the man of your dreams fast by applying to enroll in Love U.
Enjoy the Love U Podcast? Please rate it on Apple:
On the desktop, go to the show's

Apple Podcasts page

and click "Listen on Apple"

On your phone, click on More Episodes, then scroll to the bottom to get to Ratings & Reviews. Click on "Write a Review" and share what you enjoy about the podcast!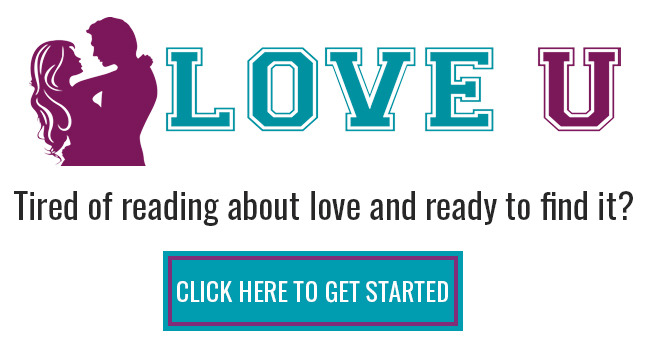 Happy Clients
"I am so happy because I met Mr. Right!"

To make a long story short, I am so happy because I met Mr. Right.   He possessed the 3 important requirements that fit my need: chemistry, compatibility, and emotionally and physically attraction.   We are committed and our relationship is going on strong for three years now.

"I'm getting to "¨know and like men with an entirely new perspective."

I feel more confident and relaxed and I'm not even sure it matters if "¨I meet the one. I have a whole new way to enjoy life and enjoy having "¨men in my life.

"9 months and 14 first dates later, I met the man of my dreams! Love is not a big enough word for how we feel!"

It's only been 106 days, Evan, but they have been the BEST 106 days of my life! Thank you for leading me in the right direction, giving me the confidence to believe in myself and helping me find the love I deserve.
This website uses cookies to improve your experience. Feel free to opt-out in the cookie settings if you wish. ACCEPTCookie settings
Privacy & Cookies Policy
[gravityform id="10″ title="false" description="false"]
<div class='gf_browser_chrome gform_wrapper' id='gform_wrapper_10′ ><form method='post' enctype='multipart/form-data' id='gform_10′ action='/blog/the-love-u-podcast/is-he-interested-or-just-being-nice-7-obvious-signs'>
<div class='gform_body'><ul id='gform_fields_10′ class='gform_fields top_label form_sublabel_below description_below'><li id='field_10_1′ class='gfield gfield_contains_required field_sublabel_below field_description_below gfield_visibility_visible' ><label class='gfield_label' for='input_10_1′ ><span class='gfield_required'>*</span></label><div class='ginput_container ginput_container_text'><input name='input_1′ id='input_10_1′ type='text' value=" class='medium' placeholder='Enter your first name' aria-required="true" aria-invalid="false" /></div></li><li id='field_10_5′ class='gfield gfield_contains_required field_sublabel_below field_description_below gfield_visibility_visible' ><label class='gfield_label' for='input_10_5′ ><span class='gfield_required'>*</span></label><div class='ginput_container ginput_container_email'>
<input name='input_5′ id='input_10_5′ type='text' value=" class='medium' placeholder='Enter your best email address' aria-required="true" aria-invalid="false" />
</div></li><li id='field_10_3′ class='gfield gform_hidden field_sublabel_below field_description_below gfield_visibility_visible' ><input name='input_3′ id='input_10_3′ type='hidden' class='gform_hidden' aria-invalid="false" value='http://www.bing.com/' /></li><li id='field_10_4′ class='gfield gform_hidden field_sublabel_below field_description_below gfield_visibility_visible' ><input name='input_4′ id='input_10_4′ type='hidden' class='gform_hidden' aria-invalid="false" value='https://www.evanmarckatz.com/blog/the-love-u-podcast/is-he-interested-or-just-being-nice-7-obvious-signs' /></li><li id='field_10_6′ class='gfield gform_validation_container field_sublabel_below field_description_below gfield_visibility_visible' ><label class='gfield_label' for='input_10_6′ >Comments</label><div class='ginput_container'><input name='input_6′ id='input_10_6′ type='text' value=" /></div><div class='gfield_description' id='gfield_description_10_6′>This field is for validation purposes and should be left unchanged.</div></li>
</ul></div>
<div class='gform_footer top_label'> <input type="submit" id="gform_submit_button_10″ class="gform_button button om-trigger-conversion" value="Get Instant Access" onclick='if(window["gf_submitting_10"])return false; window["gf_submitting_10"]=true; ' onkeypress='if( event.keyCode == 13 ) if(window["gf_submitting_10"])return false; window["gf_submitting_10"]=true; jQuery("#gform_10").trigger("submit",[true]); '>
<input type='hidden' class='gform_hidden' name='is_submit_10′ value='1′ />
<input type='hidden' class='gform_hidden' name='gform_submit' value='10' />
<input type='hidden' class='gform_hidden' name='gform_unique_id' value=" />
<input type='hidden' class='gform_hidden' name='state_10′ value='WyJbXSIsIjM5YjE2ZTFlY2Y0NGVmZTI0NmI1OGU0NWZhMWYzZmI2Il0=' />
<input type='hidden' class='gform_hidden' name='gform_target_page_number_10′ id='gform_target_page_number_10′ value='0′ />
<input type='hidden' class='gform_hidden' name='gform_source_page_number_10′ id='gform_source_page_number_10′ value='1′ />
<input type='hidden' name='gform_field_values' value=" />
</div>
</form>
</div><script type='text/javascript'> jQuery(document).bind('gform_post_render', function(event, formId, currentPage)if(formId == 10) if(typeof Placeholders != 'undefined')
Placeholders.enable();
);jQuery(document).bind('gform_post_conditional_logic', function(event, formId, fields, isInit) );</script><script type='text/javascript'> jQuery(document).ready(function()jQuery(document).trigger('gform_post_render', [10, 1]) ); </script>
[gravityform id="13″ title="false" description="false"]
<div class='gf_browser_chrome gform_wrapper 8-mistakes-sidebar-form_wrapper' id='gform_wrapper_13′ ><form method='post' enctype='multipart/form-data' id='gform_13′ class='8-mistakes-sidebar-form' action='/blog/the-love-u-podcast/is-he-interested-or-just-being-nice-7-obvious-signs'>
<div class='gform_body'><ul id='gform_fields_13′ class='gform_fields top_label form_sublabel_below description_below'><li id='field_13_1′ class='gfield gfield_contains_required field_sublabel_below field_description_below hidden_label gfield_visibility_visible' ><label class='gfield_label' for='input_13_1′ ><span class='gfield_required'>*</span></label><div class='ginput_container ginput_container_text'><input name='input_1′ id='input_13_1′ type='text' value=" class='medium' placeholder='Enter your first name' aria-required="true" aria-invalid="false" /></div></li><li id='field_13_5′ class='gfield gfield_contains_required field_sublabel_below field_description_below gfield_visibility_visible' ><label class='gfield_label' for='input_13_5′ ><span class='gfield_required'>*</span></label><div class='ginput_container ginput_container_email'>
<input name='input_5′ id='input_13_5′ type='text' value=" class='medium' placeholder='Enter your best email address' aria-required="true" aria-invalid="false" />
</div></li><li id='field_13_3′ class='gfield gform_hidden field_sublabel_below field_description_below gfield_visibility_visible' ><input name='input_3′ id='input_13_3′ type='hidden' class='gform_hidden' aria-invalid="false" value='http://www.bing.com/' /></li><li id='field_13_4′ class='gfield gform_hidden field_sublabel_below field_description_below gfield_visibility_visible' ><input name='input_4′ id='input_13_4′ type='hidden' class='gform_hidden' aria-invalid="false" value='https://www.evanmarckatz.com/blog/the-love-u-podcast/is-he-interested-or-just-being-nice-7-obvious-signs' /></li><li id='field_13_6′ class='gfield gform_validation_container field_sublabel_below field_description_below gfield_visibility_visible' ><label class='gfield_label' for='input_13_6′ >Name</label><div class='ginput_container'><input name='input_6′ id='input_13_6′ type='text' value=" /></div><div class='gfield_description' id='gfield_description_13_6′>This field is for validation purposes and should be left unchanged.</div></li>
</ul></div>
<div class='gform_footer top_label'> <input type="submit" id="gform_submit_button_13″ class="gform_button button om-trigger-conversion" value="Yes! Send me a copy of the 8 Massive Mistakes Report." onclick='if(window["gf_submitting_13"])return false; window["gf_submitting_13"]=true; ' onkeypress='if( event.keyCode == 13 ) if(window["gf_submitting_13"])return false; window["gf_submitting_13"]=true; jQuery("#gform_13").trigger("submit",[true]); '>
<input type='hidden' class='gform_hidden' name='is_submit_13′ value='1′ />
<input type='hidden' class='gform_hidden' name='gform_submit' value='13' />
<input type='hidden' class='gform_hidden' name='gform_unique_id' value=" />
<input type='hidden' class='gform_hidden' name='state_13′ value='WyJbXSIsIjM5YjE2ZTFlY2Y0NGVmZTI0NmI1OGU0NWZhMWYzZmI2Il0=' />
<input type='hidden' class='gform_hidden' name='gform_target_page_number_13′ id='gform_target_page_number_13′ value='0′ />
<input type='hidden' class='gform_hidden' name='gform_source_page_number_13′ id='gform_source_page_number_13′ value='1′ />
<input type='hidden' name='gform_field_values' value=" />
</div>
</form>
</div><script type='text/javascript'> jQuery(document).bind('gform_post_render', function(event, formId, currentPage)if(formId == 13) if(typeof Placeholders != 'undefined')
Placeholders.enable();
);jQuery(document).bind('gform_post_conditional_logic', function(event, formId, fields, isInit) );</script><script type='text/javascript'> jQuery(document).ready(function()jQuery(document).trigger('gform_post_render', [13, 1]) ); </script>
[gravityform id="27″ title="false" description="false" ajax="true"]
<div class='gf_browser_chrome gform_wrapper' id='gform_wrapper_27′ ><div id='gf_27′ class='gform_anchor' tabindex='-1′></div><form method='post' enctype='multipart/form-data' target='gform_ajax_frame_27′ id='gform_27′ action='/blog/the-love-u-podcast/is-he-interested-or-just-being-nice-7-obvious-signs#gf_27′>
<div class='gform_body'><ul id='gform_fields_27′ class='gform_fields top_label form_sublabel_below description_below'><li id='field_27_1′ class='gfield gfield_html gfield_html_formatted gfield_no_follows_desc field_sublabel_below field_description_below gfield_visibility_visible' ><img class="em-head" src="https://www.evanmarckatz.com/images/em-head.jpg" width="120″ height="120″>
<p align="center">Evan Marc Katz</p></li><li id='field_27_2′ class='gfield gfield_html gfield_html_formatted gfield_no_follows_desc field_sublabel_below field_description_below gfield_visibility_visible' ><center><br><br>
<strong><span style="font-size: 14px">Are you sick of men not making an effort?
<br><br>
Are you tired of texting relationships?
<br><br>
Are you done with "Netflix and chill?"</span></strong><br><br>
<span style="font-size: 12px">Sign up for this free email training and I'll tell you the <strong>8 Massive Mistakes You're Making in Relationships</strong> so you never end up feeling this way again.
</span></center></li><li id='field_27_3′ class='gfield gfield_html gfield_html_formatted gfield_no_follows_desc field_sublabel_below field_description_below gfield_visibility_visible' ><center><img style="margin: 20px 0″ width="131″ height="190″ src="https://www.evanmarckatz.com/images/8-mistakes-cover.png"></center></li><li id='field_27_10′ class='gfield gfield_contains_required field_sublabel_hidden_label field_description_below gfield_visibility_visible' ><label class='gfield_label gfield_label_before_complex' >Name<span class='gfield_required'>*</span></label><div class='ginput_complex ginput_container no_prefix has_first_name no_middle_name no_last_name no_suffix gf_name_has_1 ginput_container_name' id='input_27_10′>
<span id='input_27_10_3_container' class='name_first' >
<input type='text' name='input_10.3′ id='input_27_10_3′ value=" aria-label='First name' aria-required="true" aria-invalid="false" placeholder='First Name'/>
<label for='input_27_10_3′ class='hidden_sub_label screen-reader-text'>First</label>
</span>
</div></li><li id='field_27_9′ class='gfield gfield_contains_required field_sublabel_below field_description_below hidden_label gfield_visibility_visible' ><label class='gfield_label' for='input_27_9′ ><span class='gfield_required'>*</span></label><div class='ginput_container ginput_container_email'>
<input name='input_9′ id='input_27_9′ type='text' value=" class='medium' placeholder='Enter your best email address' aria-required="true" aria-invalid="false" />
</div></li><li id='field_27_5′ class='gfield gform_hidden field_sublabel_below field_description_below gfield_visibility_visible' ><input name='input_5′ id='input_27_5′ type='hidden' class='gform_hidden' aria-invalid="false" value='http://www.bing.com/' /></li><li id='field_27_6′ class='gfield gform_hidden field_sublabel_below field_description_below gfield_visibility_visible' ><input name='input_6′ id='input_27_6′ type='hidden' class='gform_hidden' aria-invalid="false" value='https://www.evanmarckatz.com/blog/the-love-u-podcast/is-he-interested-or-just-being-nice-7-obvious-signs' /></li><li id='field_27_11′ class='gfield gform_validation_container field_sublabel_below field_description_below gfield_visibility_visible' ><label class='gfield_label' for='input_27_11′ >Comments</label><div class='ginput_container'><input name='input_11′ id='input_27_11′ type='text' value=" /></div><div class='gfield_description' id='gfield_description_27_11′>This field is for validation purposes and should be left unchanged.</div></li>
</ul></div>
<div class='gform_footer top_label'> <input type="submit" id="gform_submit_button_27″ class="gform_button button om-trigger-conversion" value="Sign Up Now" onclick='if(window["gf_submitting_27"])return false; window["gf_submitting_27"]=true; ' onkeypress='if( event.keyCode == 13 ) if(window["gf_submitting_27"])return false; window["gf_submitting_27"]=true; jQuery("#gform_27").trigger("submit",[true]); '> <input type='hidden' name='gform_ajax' value='form_id=27&amp;title=&amp;description=&amp;tabindex=0′ />
<input type='hidden' class='gform_hidden' name='is_submit_27′ value='1′ />
<input type='hidden' class='gform_hidden' name='gform_submit' value='27' />
<input type='hidden' class='gform_hidden' name='gform_unique_id' value=" />
<input type='hidden' class='gform_hidden' name='state_27′ value='WyJbXSIsIjM5YjE2ZTFlY2Y0NGVmZTI0NmI1OGU0NWZhMWYzZmI2Il0=' />
<input type='hidden' class='gform_hidden' name='gform_target_page_number_27′ id='gform_target_page_number_27′ value='0′ />
<input type='hidden' class='gform_hidden' name='gform_source_page_number_27′ id='gform_source_page_number_27′ value='1′ />
<input type='hidden' name='gform_field_values' value=" />
</div>
</form>
</div>
<iframe style='display:none;width:0px;height:0px;' src="https://www.evanmarckatz.com/about:blank" name='gform_ajax_frame_27′ id='gform_ajax_frame_27′ title='This iframe contains the logic required to handle Ajax powered Gravity Forms.'></iframe>
<script type='text/javascript'>jQuery(document).ready(function($){gformInitSpinner( 27, 'https://www.evanmarckatz.com/wp-content/plugins/gravityforms/images/spinner.gif' );jQuery('#gform_ajax_frame_27').on('load',function()var contents = jQuery(this).contents().find('*').html();var is_postback = contents.indexOf('GF_AJAX_POSTBACK') >= 0;if(!is_postback)return;var form_content = jQuery(this).contents().find('#gform_wrapper_27');var is_confirmation = jQuery(this).contents().find('#gform_confirmation_wrapper_27').length > 0;var is_redirect = contents.indexOf('gformRedirect()') >= 0;var is_form = form_content.length > 0 && ! is_redirect && ! is_confirmation;var mt = parseInt(jQuery('html').css('margin-top'), 10) + parseInt(jQuery('body').css('margin-top'), 10) + 100;if(is_form)jQuery('#gform_wrapper_27').html(form_content.html());if(form_content.hasClass('gform_validation_error'))jQuery('#gform_wrapper_27').addClass('gform_validation_error'); else jQuery('#gform_wrapper_27').removeClass('gform_validation_error');setTimeout( function() /* delay the scroll by 50 milliseconds to fix a bug in chrome */ jQuery(document).scrollTop(jQuery('#gform_wrapper_27').offset().top – mt); , 50 );if(window['gformInitDatepicker']) gformInitDatepicker();if(window['gformInitPriceFields']) gformInitPriceFields();var current_page = jQuery('#gform_source_page_number_27').val();gformInitSpinner( 27, 'https://www.evanmarckatz.com/wp-content/plugins/gravityforms/images/spinner.gif' );jQuery(document).trigger('gform_page_loaded', [27, current_page]);window['gf_submitting_27'] = false;else if(!is_redirect)var confirmation_content = jQuery(this).contents().find('.GF_AJAX_POSTBACK').html();if(!confirmation_content)confirmation_content = contents;setTimeout(function()jQuery('#gform_wrapper_27').replaceWith(confirmation_content);jQuery(document).scrollTop(jQuery('#gf_27').offset().top – mt);jQuery(document).trigger('gform_confirmation_loaded', [27]);window['gf_submitting_27'] = false;, 50);elsejQuery('#gform_27').append(contents);if(window['gformRedirect']) gformRedirect();jQuery(document).trigger('gform_post_render', [27, current_page]); ); );</script><script type='text/javascript'> jQuery(document).bind('gform_post_render', function(event, formId, currentPage)if(formId == 27) if(typeof Placeholders != 'undefined')
Placeholders.enable();
);jQuery(document).bind('gform_post_conditional_logic', function(event, formId, fields, isInit) );</script><script type='text/javascript'> jQuery(document).ready(function()jQuery(document).trigger('gform_post_render', [27, 1]) ); </script>


[ad_2]

Source link